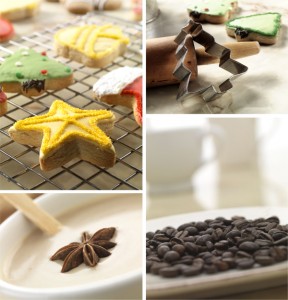 One of the things we love about preparing for the holidays is the opportunity to bring the comforts of home into the studio. Freshly baked cookies, a cup of hot coffee on a cold winter morning, having these delights as subjects for our still photography take us to a happy place this time of year.
We've been especially fortunate recently to have two of our studio neighbors work with us on some delicious projects. Julie Watson of Simply Scrumptious created a variety of Christmas and classic cookies for us to photograph. Julie makes amazing cakes, cookies, cheesecakes, truffles, etc. for any occasion, and from locally sourced ingredients. Candy Azarcon at the Carolina Coffee Roasting Company has provided fresh and roasted coffee beans for shoots, but also keeps the studio caffeinated with our own special studio blend that she helped create. Their coffee is roasted in small batches and freshly ground in their shop just around the corner. Sometimes we can even smell the coffee roasting from our front door!
We love being able to work with and support our small business neighbors and friends, so we'd like to share their talents with you by having a giveaway! The winner will receive 1 lb. of the MWP Studio Blend (a lovely mix of Columbian and Guatemalan organic coffees) and 1 lb. of Jamaican Blue Mountain from Carolina Coffee Roasting, plus a delicious tin of cookies from Simply Scrumptious. Just reply to this email to enter, or leave a comment on our blog! The winner will be selected at random from the replies. (Tell us a really good story about a favorite holiday treat, and we'll give you 2 entries! 😉
Wishing you and yours holidays that runneth over with all that is wonderful!