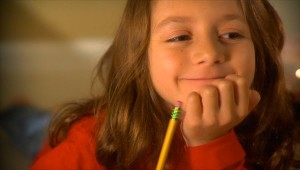 "Letters to Santa" includes footage shot for a series of commercials with our friends at G-Force Marketing. Mark wanted the results to show "classically beautiful lighting and camera movement" to give it a traditional, yet timeless, feel. He re-cut the footage to showcase the results into this short film, which can be viewed on our Blip.tv channel. Here are a few production stills from the shoot, showing all the work it takes to make something look natural and effortless!
Mark shot the film using the Letus camera attachment, which combines still camera lenses with the video camera. This allowed for the shallow depth of field and critical focus pulls that give the video a very intimate feel.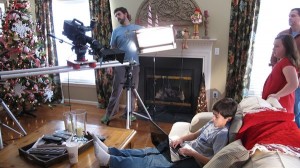 The crew rented a real, lived-in home for the day, rather than build a set, for a variety of realistic environments. It made it a tight squeeze for the dolly and track, but they were necessary for the camera motion that contributed to the classic look.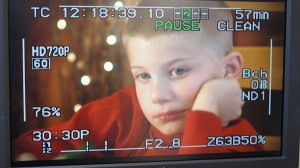 Actors don't always appreciate the time it takes to get everything set just right… But we think it's all worth it in the final film!